Damn, it's a sweatbox here room right now. Freakin' Michigan summer humidity. As they say though in these parts though "If you don't like it give it 15 minutes. It'll change." The thing is though is that if Michigan's weather was to be described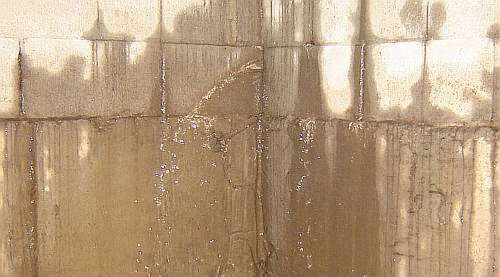 as a mental condition it could be politely refereed to Bi-Polar or more bluntly as schizophrenic. For all I know by the time you are done reading this the weather might have gone from a heat index making it feel like 105°F and 89% humidity to a freaking ice storm knocking down trees and power lines courtesy of a north Great Lakes wind. Kinda like this 3rd 7inch offering in a year from Lansing, Mi based post teen combo the People's Temple.
Lead off track here, "Make You Understand", has the feeling of loud noise in a small basement room where the walls sweat and you can see steam rising off the cement foundation.
Primal venting of desperation with a beat that knock you head against the ciderblocks and guitar noise covering the rest of your body with a corrosive sticky fuzz. It's as if these guys found a battered copy of the book the MC5 wrote. There's some pages missing from it though those pages are the one's about getting sometimes a little excessive with the long jammy groove parts. Those pages shouldn't be read by most bands anyway so it's all good. It's followed by "Machine", a way later in the evening thing where the temperature has dropped a good 20
degrees and you're walking heavy lidded down the street watching a fog rise up that is thick enough to make the street lights at the end of the block hardly noticeable. And dude, yes, you may be tripping hard but that isn't animated paisley on your buddy's shirt. They are really colorful maggots.
Side two's "Jim Jones" is where the weather takes a really strange shift. What could have turned out to be pastoral walk through a meadow turns into a chilling stroll. That's not some hippie singer like Donovan with flowers in his hand. He's holding a machete and it ain't to cut a new trail through the long grass for ya. Somewhere (in Hell or wherever religious cult leaders go when the die) the song's namesake is smiling after trading in his cop/Elvis/Blu-Blocker shades for a pair of John Cale wraparounds.
http://www.myspace.com/thepeoplestemple10