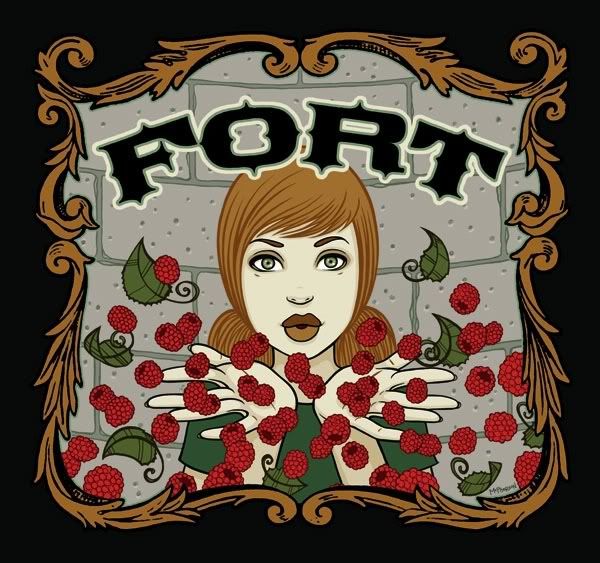 According the the Dogfish Head's website Fort is "a strong ale brewed with a ridiculous amount of pureed raspberries (over a ton of em!)". I don't mind raspberries at all and rather like them in a fermented concotions. The better half and I will split a bottle of Framboise a couple times a year. With a 17% abv and it being a Dogfish Head I knew it would be much bolder than a fru-fru Framboise though. At almost 18 bucks for 750 mil bottle it was a special occasion thing that the better half and I would share with friends over a dinner we we're having together over the weekend.
I gotta say that the label, designed by
Tara McPherson
, has the cutest cartoon female I think I've seen in quite a long time. Well, her and the
Esurance chick
that is. The drink itself looks nice too. At first pour it reminds me a bit like apple cider but given a minute in the glass it takes on a summer at dusk orange look. You can smell the alcohol in it. No doubt about that. The raspberry scent raps itself around it. Very interesting. We adjusted our tastebuds accordingly, clinked our glasses and took a sip. Then we all looked at each other.
"Ugh! Cough medicine" was everyone's first reaction. Follow up tastes didn't change much from that. I don't know if that was DFH's intention or if they need to experiment more with the idea. From start to finish it very medicinal and drying. Ethanol was mentioned more than one. The raspberry taste seems it more of the seed than the fruit and any sweetness that comes from it is hanging on heavy and thick to the alcohol making the whole damn thing unpleasant. All of us there are Dogfish Head fans. We wanted to get around the idea of Fort, expecting something a bit juicy with a big kick, but couldn't get into it.
http://www.dogfish.com/